Tools - Smart Battery Charger & Tester - 6-12V - 0.75mA
501-004
Our smart battery charger / maintainer is very compact and also features a testing function so you know exactly what your battery voltage is.
Perfect to keep your Car, Motorcycle, ATV, Mower peak operating condition, resulting in longer battery life by preventing discharging and deep cycling during the winter storage months.
The intelligent switch mode will analyze your battery for polarity inversion, short circuits or overcharge conditions. When the Maintainer senses a dip in voltage, it will automatically activate the charging sequence until the battery is at the optimal level. Once the battery reaches the optimal level, the battery charger will go back into standby / monitor mode.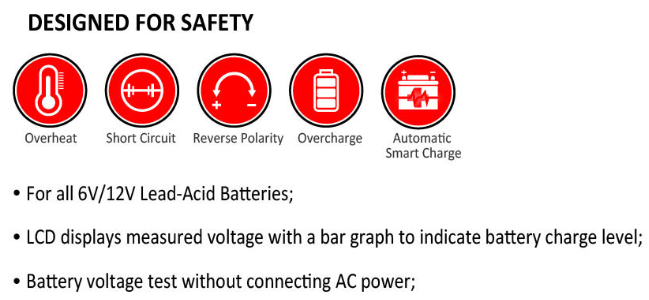 Stats:
Dimensions:
Multiple, please see picture(s) for approximate measurements
Input:
100 - 240 Volts (AC)
Output:
 6-12 Volts Direct Current (DC)  750mA
Fits:
Compatible Battery Types: Safe for use on all 6v-12v Lead Acid type batteries including: Absorbed Glass Mat Maintenance Free (AGM), Factory Activated Maintenance Free (MF/FA), Conventional Flooded (Wet), and Gel Electrolyte (Gel).
Install Notes:
N/A

Replaces these OEM Part Numbers:
(Will also fit other part #'s)
N/A